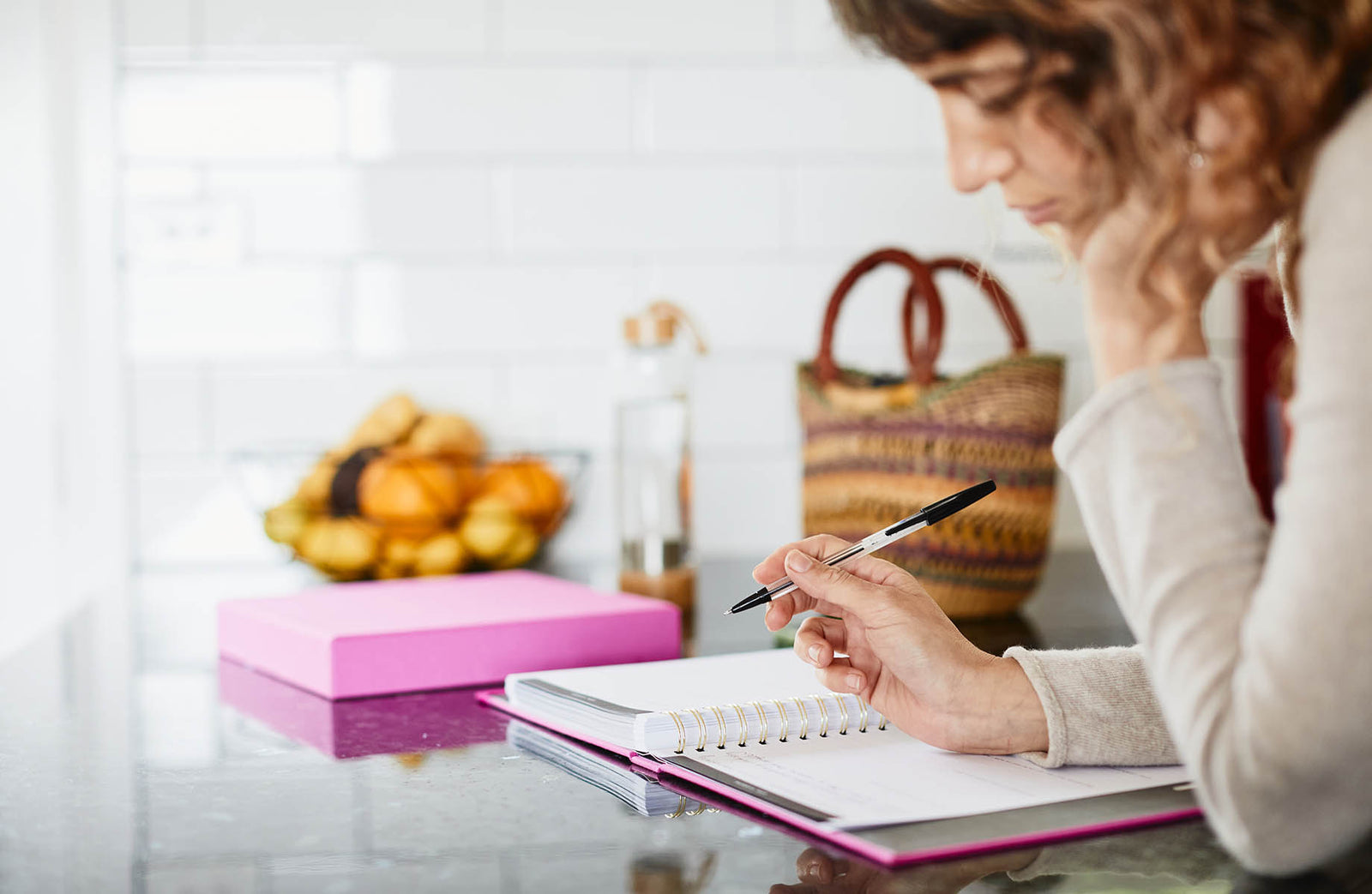 From a personal perspective pen to paper works for me. I keep a daily planner, calendar and notebook and I commit to using these tools to get me through the day. I get so much satisfaction in ticking things off my to-do list – and if they are not written down, they just don't get done. The girls in our team also live by their planners. So here are our collective reasons why we keep planners and how much they help in our daily lives. Also, who doesn't love using beautiful stationery?! It is a treat in itself!
DAILY PLANNERS
When tech became a thing many years ago I stopped using a printed weekly planner and committed to the diary on my phone. Besides feeling a little less satisfied in the process and not able to just scrawl my thoughts or quick ideas, more than once for some reason everything was deleted off the calendar. Was it an update, was it a family sharing override? I don't know but I couldn't handle the level of anxiety in losing so much information. I know you can also physically lose your planner too, but it was more than that.
There is something in the act of putting pen to paper that frees the brain of that information. You no longer must think about it. It's written down, in ink, going nowhere, it is the reminder. Queue then going to bed and not mulling over details that must be remembered for the next morning. Research has proven that writing does destress and is very therapeutic.
I love using Sunday to plan my week. I feel like going into a new week all over it ends the week more satisfied with what I have achieved. Seeing my week in one spread helps me plan my time. Not just with commitments but some 'me time' too. If find if I don't put it in the planner to go for that walk or make time for that yoga class, coffee with a dear friend, then my time is easily spent on folding washing or washing dishes. There are always more chores than you plan for so if you schedule in that nice thing for you – it is closer to happening then not! That is so important for mental health wellbeing too. Something for you. You deserve it. Schedule it.
CALENDARS
OK I am going to break this down as we have a few calendars each with a purpose and I use more than one! 'More than one calendar, are you a freak?' I hear you say?! Ha! Well, I guess if you have different things going on in your life than you might find more than one useful too.
The Family Chaos Planner is my go-to family planner. Everyone gets a column, including the dog and a family column too. We also have a left-over column that we use for birthdays. There is just enough room to write appointments and times and be able to see where everyone is at in one glance. It is so handy for organising who is picking up, dropping off, running there and there.
There are also no excuses for your partner telling you "But you didn't tell me we had that on" Refer to the calendar my love, in the kitchen, where everyone can see it! Say goodbye to being double booked, forgetting you needed to be at that soccer trial, or missing a friend's birthday!
Home hustle is also great for this purpose, and you can also meal plan and keep extra notes. I like to meal plan and write my shopping list with my list makers. Just a personal preference!
BIG BOX PLANNER
This is my work planner on the wall by my desk. It has big boxes so I can write a lot and read it from my desk without having to put my nose to it! I find it handy to plan project deadlines and see things visually in a larger format. These are also great if you have kids at high school to use as study planners and what is on for school.
YEARLY PLANNER
This is also one that is so useful for work and home. It is so handy seeing the year in one page. For work we block out quarterly projects, time off, school holidays, product launches, strategy sessions and meetings. For home they work for renovation projects or just the upkeep of the house. Things like spring cleans, cleaning gutters, garden maintenance, or smaller projects that you want to complete within the year.
Ah my meal planner and shopping list pad. Where would I be without them! Not having dinner planned for the week seriously adds a level of stress to my week. Knowing I am arriving home to a fridge of ingredients and directions of what to cook for dinner really makes me happy.
I try and include favourite family meals, which get repeated weekly like tacos, or fortnightly and then I always try and put in something new or a bit different. Otherwise, I find mealtimes kind of get boring and repetitive. Once my meals are planned, I then create a shopping list. This simple process not only saves you from wondering around the supermarket aisles in a daze, but it also saves cash and food wastage. I buy what I need and do not divert!
If you are also into saving some more 'me time' – shop online. Someone else picking my groceries, packing it and driving it to my house is music to my ears.
I hope you have found some nuggets of inspiration to put pen to paper and nail your days, weeks, and months. Anything to make our chaotic lives easier right?! That's why we call it My Organised Chaos!