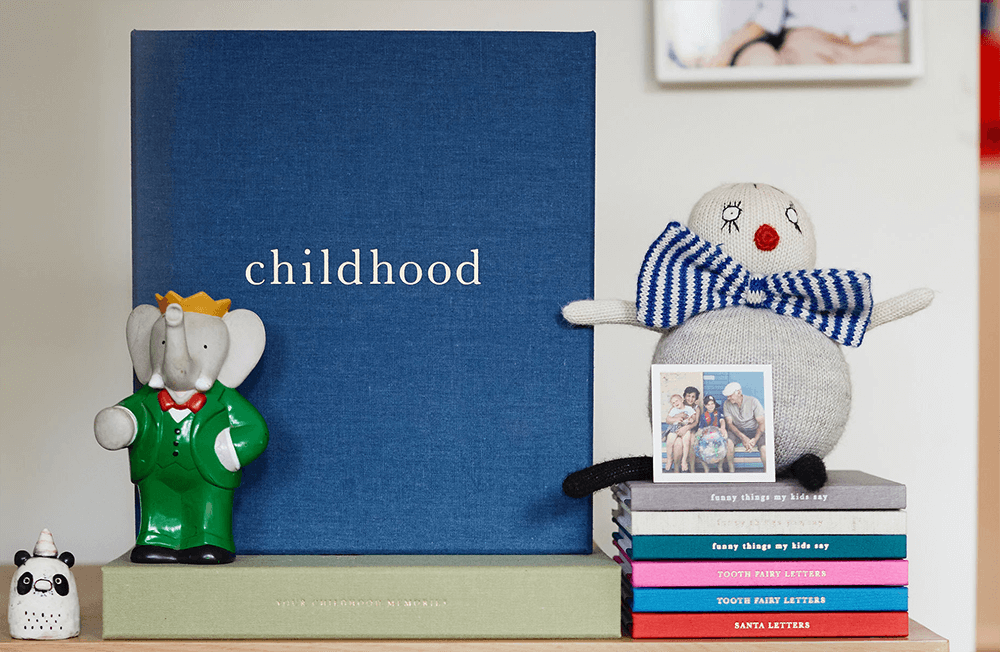 Childhood years pass by so quickly. It is so cliché but one day you are waving them off for their first day of school, then you blink and they are blowing out teenage birthday candles. Time please so slow down – I find this thought permanently swirling around in my head.
These years are full of milestones and moments that are so special. We created our Childhood journalas a place to continue to document memories past the baby and toddler years. Exciting things are happening, achievements are being celebrated, friendships are forming, adventures are being had – there is so much to talk about.
Having these memories documents creates a time capsule that can be looked back on in the future. When the years have past and all the detail becomes distant. A Childhood journal will become such a special heirloom to pass down in handwriting that means so much.
You can begin this journal at any age and at any time. It is divided into 6 equal 'age' sections, a 'photos of you' and 'gift for you' section. Each 'age' section features the following spreads:
  __ Years Old Spread (age to be filled out)
School Days Spread • School Days Photos
Activities Spread • Your Birthday Spread
Memorable Time With Family Page / Memorable Time With Friends Page
Moment to Remember Spread
This Year's Journal Spread
To end there is an extra spread for photos and a gift for you page. 
Keeping a childhood memory journal has so many lovely benefits also.
Preservation Of Memories.
Childhood memories are precious and often fade with time. By recording them in a journal, you can capture and preserve these memories for the future. As your child grows older, you'll appreciate having made the time to create a space where their childhood experiences can be revisited whenever they want.
Personal Reflection.
Documenting your child's childhood provides an opportunity for self-reflection as a parent. It allows you to observe your child's growth and development over time and gain insights into their personality, interests, and talents. Reflecting on your parenting journey can help you make adjustments, celebrate your successes, and learn from your experiences too.
Family Legacy.
Creating a documented record of your child's childhood contributes to your family's legacy. It becomes a valuable heirloom that can be passed down through generations, providing a connection to the past and a sense of continuity. Your child and future generations can learn about their roots, family traditions, and the experiences that shaped their family's history.
Emotional Connection.
Documenting your child's childhood can strengthen the emotional bond between you and your child. It shows them that their experiences, accomplishments, and feelings are important to you. Looking back at these documented moments can create shared memories and foster a sense of belonging and love within the family.
Documenting your child's childhood doesn't have to be a burdensome task. It can be as simple as jotting down notes, taking occasional photos and recording special moments. You make time monthly or just once a year. We have also designed the journal so it is not overwhelming to backdate if you wish. The goal is to capture the essence of their childhood and create lasting memories that you and your child can cherish together.
This guided journal will become a cherished keepsake of such a treasured time. A place to reflect on childhood in all the years to come.